Ecommerce Web Design...
ECommerce
is the name used to embrace all the business activities involved in the act of selling or trading goods and services directly online. It covers everything from online
shopping catologues
and other advertising aids, to directly selling goods, products or services to customers through a variety of other online methods.
Whether you run an exclusive business-to-business operation or sell goods or services directly to the public, you will gain maximum benefit from your website by using a dedicated eCommerce Shopping Cart, enabling your retail or B2B customers to order your products directly online.
Retail customers normally pay by credit card at the time the order is placed, whilst B2B customers normally order "on account" and then pay at a later date under agreed trading terms.
Shopping Cart Software...
Ecommerce shopping cart software comes in a variety of different styles, features and functionality, but they are all designed around one specific central feature...


Your customers can buy or order products instantly online!
Whilst this is a very powerful feature, most modern shopping carts can also calculate delivery costs worldwide; add sales tax (VAT) when applicable; and provide a variety of payment options including...
Credit Cards - On Account - Cheque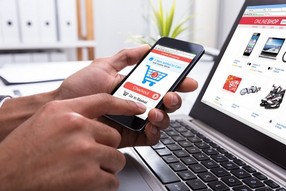 Ecommerce Shopping Carts
are
normally used for
online retail shopping sites
, enabling customers to directly order and pay for goods online by credit card or, in some instances, for registered account numbers.
Product Display Catalogues
are
normally used to display
Business to Business
products for "on account" customers, and large expensive products like cars and houses which are not normally available to purchase directly online.
Database Controlled Shopping Cart
is the easiest way to have complete control of your products, enabling you to update them at any time 24/7, thus ensuring they are always 100% up-to-date and displaying the latest information at all times.